Episode 575: How to Leverage Feedback From Your Community – Jennifer Garcia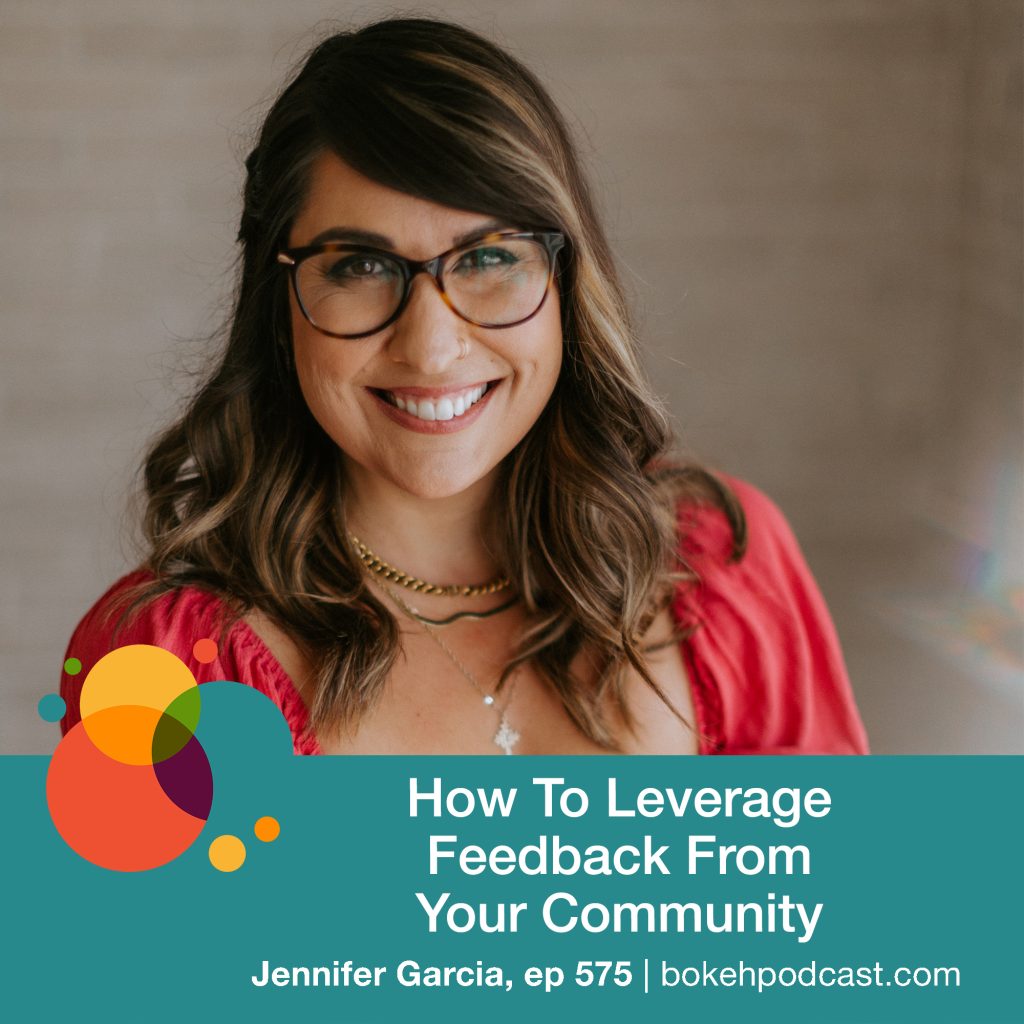 Do you feel like you've hit the ceiling of growth for your business? Are you looking for new ways that you can scale beyond where you're currently at? Have you considered leveraging the community and client-base that is interacting with you day in and day out?

In Episode 575 of the Bokeh Podcast, return guest Jennifer Garcia provides incredible insight into how you can leverage feedback from your community. Tune in as we chat about what a "Win-Win-Win Outcome" looks like, how you can find balance between asserting yourself as the business owner and acknowledging the perspective of others, and three ways that you can start collecting feedback from your community right away!

The Bokeh Podcast is brought to you by Photographer's Edit: Custom Editing for the Professional Photographer. You can subscribe to the Bokeh podcast on the Apple podcast app, follow on Spotify, add to your playlist on Stitcher, or listen on Overcast.
Jennifer's introduction (1:30)

Brand position (2:30)

Does Jennifer see this as a business model that will be more sustainable over the long run? (4:27)

Creating a great customer experience (9:36)

What is a tangible example of a "Win-Win-Win Outcome" for Jennifer? (10:30)

Techniques for time management and delegation (11:40)

How did Jennifer make the distinction between what requires her involvement and what does not? (16:00)

Book recommendation (19:20)
https://bokehbookshelf.com
Relentless: From Good to Great to Unstoppable by Tim Grover

How did Jennifer arrive at finding that the answer to the question about where to go next lies in listening to your community? (12:36)

How long ago did Jennifer arrive at this realization? (22:54)

How can photographers allow others to give direction on what they are doing as a company? (25:07)

What is the balance between asserting yourself as the business owner and acknowledging the perspective of others? (30:25)

Jennifer's suggestions to getting outside of yourself (33:47)

How can we begin to view the idea of change as something good, rather than something negative? (36:18)

3 Ways You Can Get Feedback From Your Community (38:25)
1. Start with a conversation
2. Build a newsletter list
3. Take advantage of Instagram polls

How can you create email newsletters that stand out amongst the noise and get engagement? (45:25)

Has Jennifer ever experimented with offering gift cards as a 'thank you' for completing a survey or poll? (53:34)

The value of specificity (54:09)
Links

https://www.charitywater.org
Episode 312: Taking Your Next Risk
www.sparkstudiosoc.com
www.instagram.com/sparkstudiosoc
www.instagram.com/jennifergarciacreative
https://jayshetty.me/podcast/
https://www.surveymonkey.com/