Episode 576: How to Juggle Motherhood and Business Ownership – Emily Magers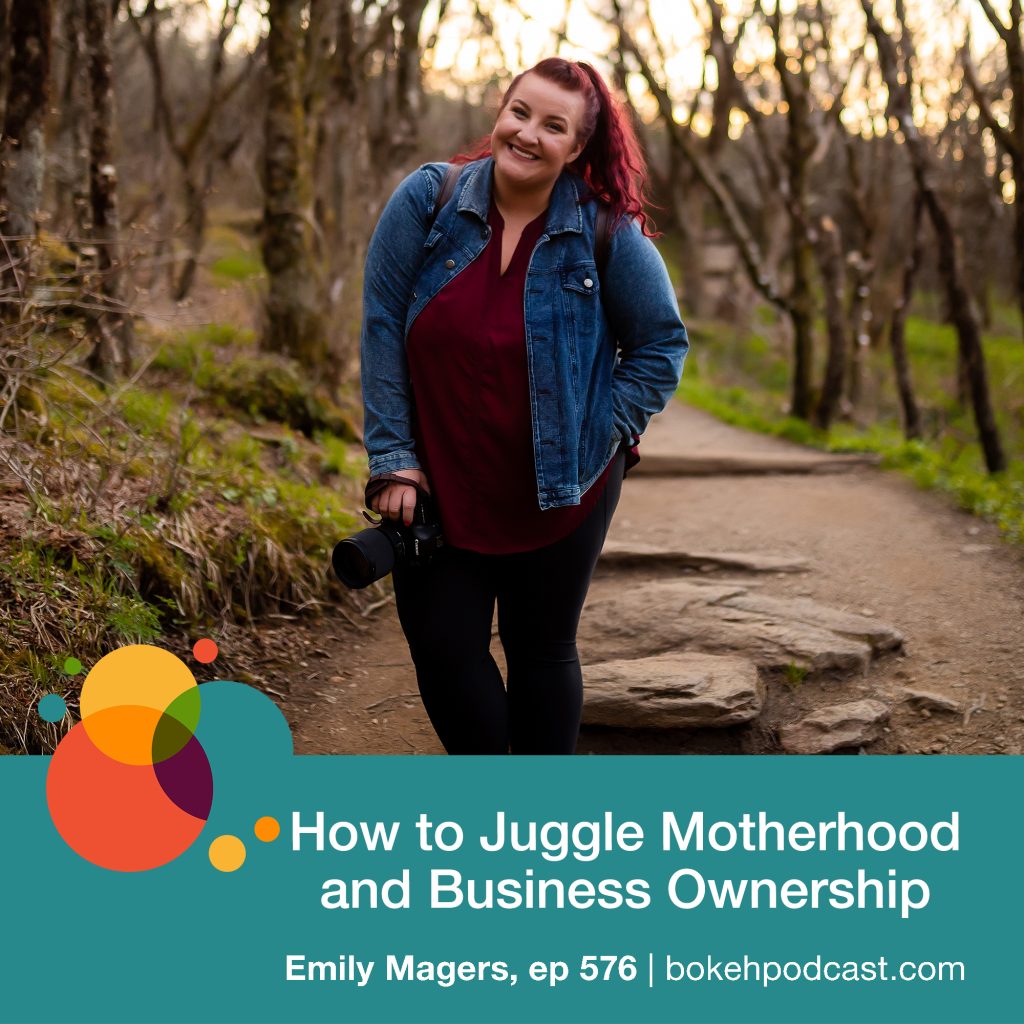 TW: Depression
Are you struggling to find balance as a parent and business owner? Can the two co-exist in such a way that you can thrive at both?
In Episode 576 of the Bokeh Podcast, Emily Magers explores what it looks like to navigate both motherhood and running a successful photography business. While there is freedom and flexibility in being an entrepreneur, there are also challenges that must be faced. Tune in as we chat about topics including lack of sleep, missing out on time with people, and mental health.

The Bokeh Podcast is brought to you by Photographer's Edit: Custom Editing for the Professional Photographer. You can subscribe to the Bokeh podcast on the Apple podcast app, follow on Spotify, add to your playlist on Stitcher, or listen on Overcast.
Emily's introduction (1:44)
Brand position (2:46)
How does Emily make a new client feel comfortable? (4:06)
Creating a great customer experience (5:54)
Technique for time management (8:29)
Delegation (10:41)
Podcast and book recommendations (14:40)
https://bokehbookshelf.com
#IMomSoHard by Kristin Hensley and Jen Smedley
What does Emily find appealing about true crime podcasts? (15:16)
How many kids does Emily have? (17:13)
How long has Emily been in business? (18:23)
What was the turning point where Emily felt she needed to find a better balance between motherhood and business? (19:32)
4 Challenges That Come with Being a Mother and Business Owner (21:56)
1. Lack of sleep
2. Always facing the unexpected
3. Missing out on time with people
4. Depression
What ideas has Emily come up with to address the lack of sleep issue? (23:27)
What draws Emily to being a night owl? (25:22)
How has Emily adapted to facing the unexpected or changed things to be more predictable? (27:03)
What does Emily see as the balance between transparency and oversharing? (29:58)
When sharing information, is it relevant to the service that Emily provides? (31:28)
How has Emily created space to connect with people amidst running a business? (35:23)
What has dealing with depression looked like for Emily and how is she confronting it? (40:23)
Links
https://www.charitywater.org
www.magerimage.com
www.instagram.com/magerimage
www.facebook.com/magerimagephotography
www.photographersedit.com
Living Untethered: Beyond the Human Predicament by Michael A. Singer