Episode 469: How to Build a Stronger, Healthier Body: Jamenda Whitehead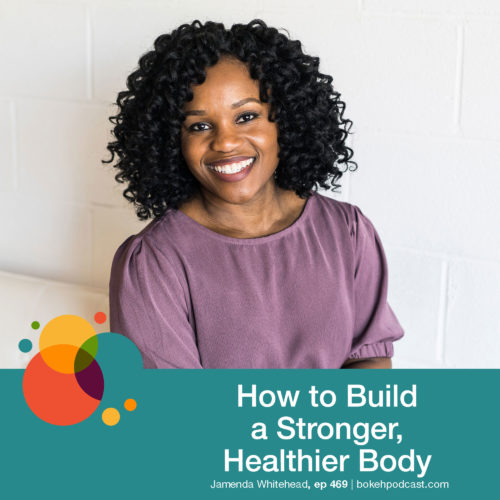 Does the idea of focusing on your health and fitness seem like a time consuming chore? Can it really be as simple as doing small things consistently in order to see results?

In episode 469 of the Bokeh Podcast, Jamenda Whitehead shares what she learned as a professional body builder that is now shaping her routine for maintaining a healthy lifestyle as a photographer.  Listen in as she provides simple steps that we can take now to build a stronger, healthier body for better quality of life in the future.

The Bokeh Podcast is brought to you by Photographer's Edit: Custom Editing for the Professional Photographer and Miilu: The Simplest Way to Create and Manage Timelines and Shot Lists for the Events You're Photographing.  You can also subscribe to the Bokeh podcast on the Apple podcast app, follow on Spotify, add to your playlist on Stitcher, or listen on Overcast.
Show Notes

Technique for Time: Time blocking and having a to do list (6:06)
Brand Position: (10:02) Cleveland, OH and Atlanta, GA wedding and portrait photographer: "Grace My Lens and I'll Grace Your Memories"
Client Experience: Provides customers with experiences that they don't expect (13:08)
Delegation/Outsourcing: Editing and Finances/bookkeeping (16:00)
Book Recommendation: (20:45 )
The Power of Habit by Charles Duhigg
Motivation to Be a Competitive Body Builder (26:59)
Workout Routine Now as a Photographer (34:25)
Top 5 Exercises to Get Started: (38:57)
1. Squats
2. Lunges
3. Pushups
4. Sit-ups (or crunches)
5. Tricep dips
Important Dietary Principles: (1:02:54)
1. Snacks vs meals
2. Be aware of what works best for your body
3. Have a cheat meal!
4. Hydration
5. Give your self grace
Supplementation (1:18:55)
Links:
jgracedphotography.com
instagram.com/jgracedphotography
facebook.com/jgracedphotography
Honeybook.com
Todoist.com
wellnessfx.com
Thorne.com