Episode 488: Boudoir Photography and Body Acceptance – Jessica Hunt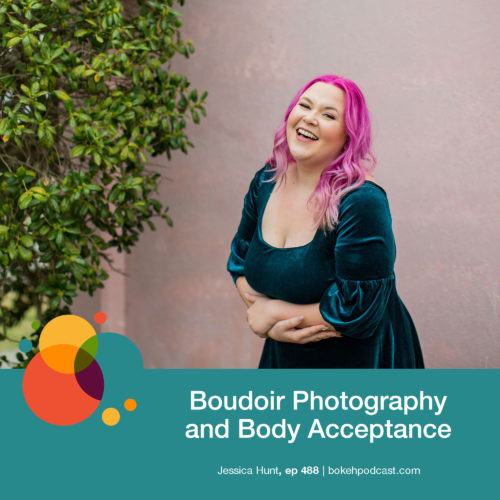 We all want to feel accepted as we are, and nowhere else does this hold more true than when we have a little less clothing on than normal!
In episode 488 of the Bokeh Podcast, Jessica Hunt shares how she is intentional about making every client feel comfortable, cared for, and celebrated – regardless of body type, race, ethnicity, gender, or sexual preference. Listen in to hear how she structures her boudoir sessions to turn them into an empowering, confidence-inspiring experience!
The Bokeh Podcast is brought to you by Photographer's Edit: Custom Editing for the Professional Photographer and Miilu: The Simplest Way to Create and Manage Timelines and Shot Lists for the Events You're Photographing. You can also subscribe to the Bokeh podcast on the Apple podcast app, follow on Spotify, add to your playlist on Stitcher, or listen on Overcast.

Show Notes

Jessica's entrance into and inspiration for boudoir photography (5:32)
Jessica's brand position (19:44)
How does Jessica define "body shaming"? (27:09)
How to avoid the potential of excluding certain body types in your boudoir photography work (32:55)
How Jessica sets the tone prior to the shoot (46:10)
Steps taken during the shoot to ensure clients feels comfortable: (59:28)
1. Pampering the client with hair/makeup/nails by a professional
2. Friendly conversation between Jessica and the client in order to get to know each other
3. Reinforcement of the safe space for the client
4. Client-specific playlists are created to be played during the session
Hiding a body vs. posing according to how the client wants to be seen (1:08:20)
Links:
jessicahuntphotography.com
jessicahuntphotography.com/boudoir-photographer
instagram.com/jhuntphotos
instagram.com/jhuntbodies/
Goingultraviolet.com
Jessica's First Bokeh Podcast Interview: Episode 143