Episode 489: The Coexistence of Faith & Dedication in Building Business – Demetrius Neal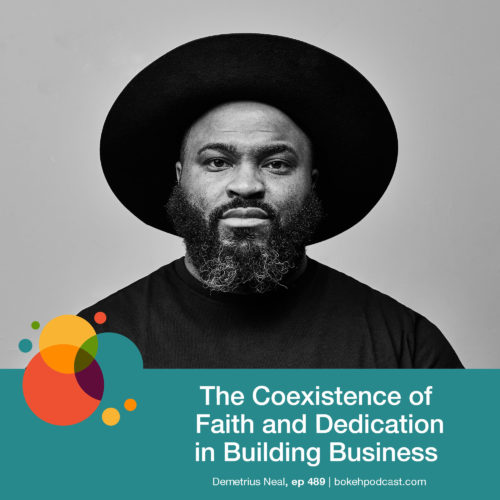 How can personal faith and values transcend into the world of business? Do the habits and tendencies that we possess in our personal lives also shape how we run a business?
Loyalty, trust, honesty and intentionality are not only the core values on which Demetrius Neal built his business, but also the driving motivators in his personal life. Listen in to episode 489 of the Bokeh Podcast to hear how his faith and morals are at the foundation of his business, and how his work ethic is shaped by these guiding principles.
The Bokeh Podcast is brought to you by Photographer's Edit: Custom Editing for the Professional Photographer and Miilu: The Simplest Way to Create and Manage Timelines and Shot Lists for the Events You're Photographing. You can also subscribe to the Bokeh podcast on the Apple podcast app, follow on Spotify, add to your playlist on Stitcher, or listen on Overcast.
Show Notes

Demetrius' brand position (1:15)
Values that drive Demetrius' work ethic: (13:55)
1. Loyalty
2. Trust
Creating a great customer experience (16:55)
Delegation/Outsourcing (24:44)
Educational or Inspirational recommendation (27:50)
Demetrius' journey in religion (38:33)
What is the significance of faith in relation to his business? (46:28)
3 Habits Demetrius implements regularly to grow his business: (53:04)
1. Pray every morning
2. Take initiative in reaching out to potential clients
3. Be honest