Episode 473: The Key to Negating Burnout – Drew Renner and Chad Brown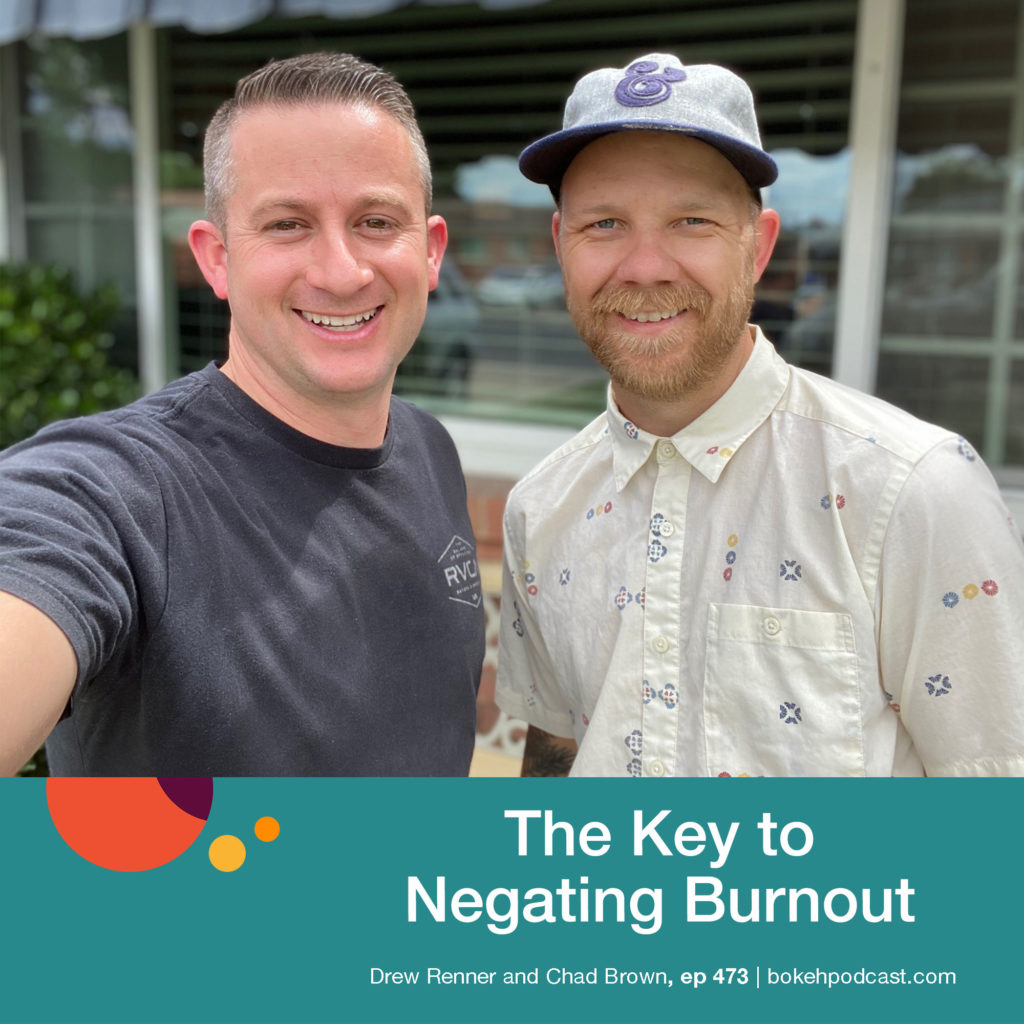 Exciting as launching a business can be, sometimes the momentum carries us to a crazy place, and we find ourselves depleted! What if there was a way to not only pull ourselves out of that messy place, but avoid burnout in the future?
Listen in to episode 473 of the Bokeh Podcast as Drew Renner and Chad Brown of @epicmantrips share the hard lessons they learned about burnout, and the 4 big ideas that enabled them to overcome and avoid it moving forward!
The Bokeh Podcast is brought to you by Photographer's Edit: Custom Editing for the Professional Photographer and Miilu: The Simplest Way to Create and Manage Timelines and Shot Lists for the Events You're Photographing. You can also subscribe to the Bokeh podcast on the Apple podcast app, follow on Spotify, add to your playlist on Stitcher, or listen on Overcast.
Show Notes

Brand Position: (2:02)  Creating experiences for men to learn how to deepen their relationships with family and friends.
Customer Experience: Listen to your clients! (5:45)
Technique for Time Management (18:09)
Delegation/Outsourcing: Utilizing freelancers (30:28)
Book Recommendations (35:25)
The Courage To Be Disliked by Ichiro Kishimi and Fumitake Koga
Leadership and Self-Deception by the Arbinger Institute
The Four Agreements – by Don Miguel Ruiz
A More Beautiful Question by Warren Berger
What led to burnout for Drew and Chad? (39:34)
Principles that enabled the shift from burnout: (51:27)
1. Vision
2. Treat your time like gold
3. Do the hard thing first
4. Question your stories
Thought exercise for creatives (1:02:00)
Email Chad: chad@takenewground.com
Podcasts:
Naked Leadership hosted by Chad
Hey What's Up Man? hosted by Drew and Chad
Links:
https://epicmantrips.com
shadetreefilms.com
https://www.instagram.com/epicmantrips