Episode 556: Relationship Marketing: The Missing Pieces – Ashley Freehan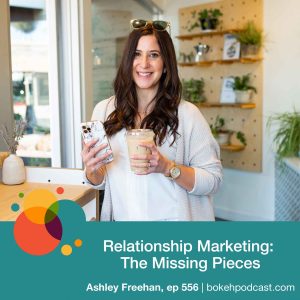 Curious as to why posting cute photos on social media isn't creating business growth? Let's go past surface-level marketing and get into why relationship marketing with clients AND vendors can be the missing piece to a successful business!
In episode 556 of the Bokeh Podcast, we welcome returning guest, Ashley Freehan, to give insight and recommendations on how to successfully use relationship marketing in your business. Learn how to connect with clients and vendors in ways that can create an authentic and valuable relationship for both parties.
The Bokeh Podcast is brought to you by Photographer's Edit: Custom Editing for the Professional Photographer. You can subscribe to the Bokeh podcast on the Apple podcast app, follow on Spotify, add to your playlist on Stitcher, or listen on Overcast.

Show Notes

Ashley's Take on word-of-mouth referrals and relationship marketing (4:57)

What is the mental block that many photographers have in regards to having an active strategy for referrals? (10:01)

How to redevelop your marketing when changing locations (14:51)

Passion regarding the concerns about lack of development in relationship marketing (16:00)
What is relationship marketing? (17:30)

Importance of distinct brand positioning and relationship marketing (20:38)

Key Relationships for Photographers (25:07)
1. Complementary Businesses/Vendors
2. Potential Clients

Steps to successful relationship marketing (27:27)
1. Commit to the process and make it a priority
2. Set up a system to keep up with clients
3. Find and connect with your complementary vendors
4. Present the idea of collaboration
5. Use relationship marketing with potential clients

How to help your clients feel comfortable and how to become more comfortable with clients (46:24)

How to use relationship marketing with potential clients (01:02:04)
1. Hot Leads
2. Engaged Followers
3. Researched Leads

Links:
https://www.charitywater.org
Ashley Freehan's Previous Episode 508:
https://www.photographersedit.com/bokeh-podcast/episodes/the-key-steps-from-part-timer-to-ceo/
https://thepurposegathering.com
https://www.instagram.com/thepurposegathering/
https://www.instagram.com/ashleyfreehanphotography/
https://bokehbookshelf.com