Episode 555: Grow Your Business AFTER Image Delivery – Gavin Wade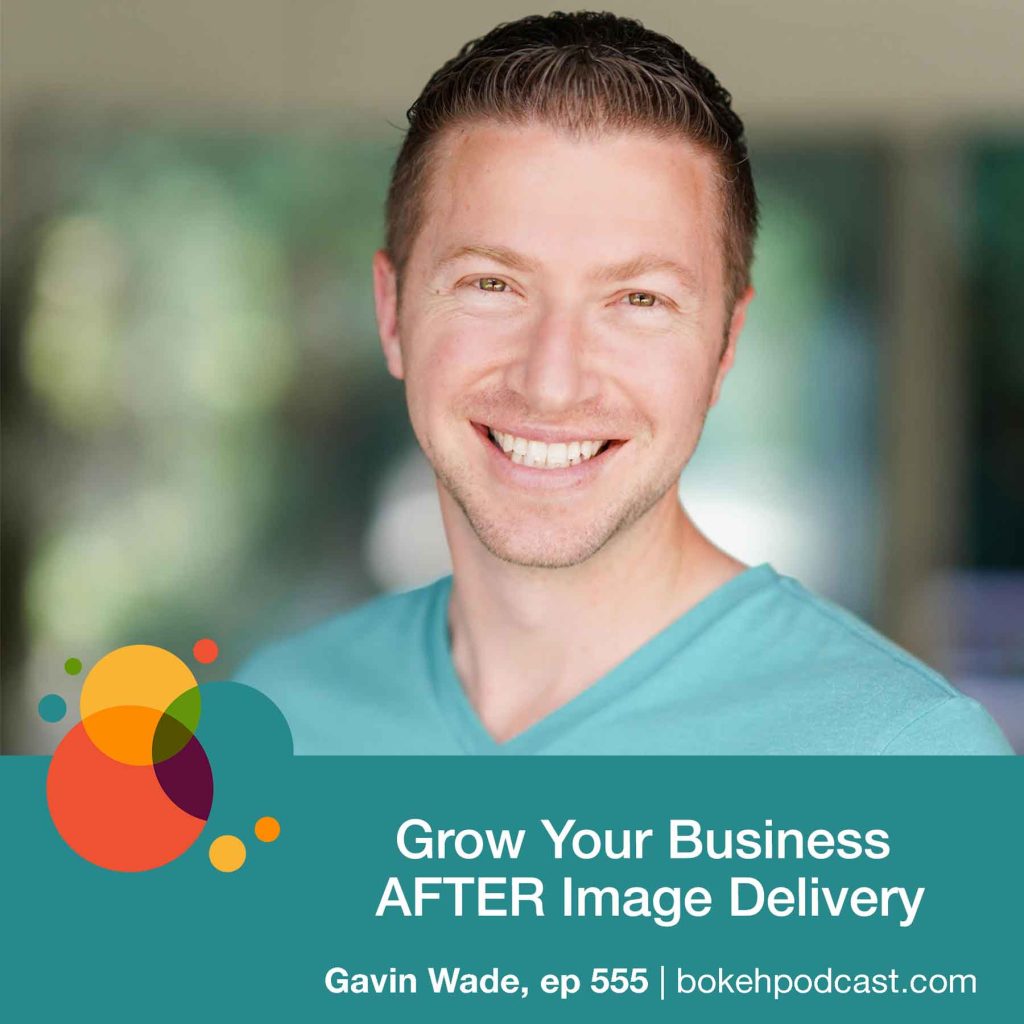 Some might think, "My client received their images so they don't need me anymore." WRONG! There's so much more you can do to retain clients for future shoots!
In episode 555 of the Bokeh Podcast, we talk to returning guest, Gavin Wade, about how to continue a relationship with your clients after their images are delivered. Also, learn how important print and product sales are for your business including how you can use cloudspot.io to make it easier for clients to purchase prints from you!
The Bokeh Podcast is brought to you by Photographer's Edit: Custom Editing for the Professional Photographer. You can subscribe to the Bokeh podcast on the Apple podcast app, follow on Spotify, add to your playlist on Stitcher, or listen on Overcast.

Show Notes

Brand position (4:36)

Creating a great customer experience (14:04)

Technique for time management (16:08)

Outsourcing/Delegation (18:53)

Book recommendation (22:42)
Extreme Revenue Growth by Victor Cheng
https://bokehbookshelf.com

WTF Moment (24:46)

What are some of the biggest mistakes you made in an effort to grow your business? (28:21)
1. Only marketing to one demographic
2. Perfectionistic Paralysis

What are some of the best decisions you made when growing your business? (36:10)
1. Having a Mentor/Connecting with your Community
– Find someone in your market /location
– Secondary shooting
2. Investing in Relationships with Vendors

Growing your Business After Image Delivery (43:11)
1. Think of image delivery as the start of a continued relationship with a client
2. Print and Product Sales

How do photographers become more sales minded with print and product sales? (50:18)
1. Get over the perfection paralysis
2. Start talking about prints/products from the beginning

Tools Cloud Spot has that enables photographers to market their images successfully (53:49)

Links:
https://www.charitywater.org
cloudspot.io
https://www.instagram.com/cloudspot.io/
https://gavinwadephoto.com
Gavin Wade's Previous Episode:
https://podcasts.apple.com/us/podcast/bokeh-the-photography-podcast/id1140118526?i=1000384604035
https://open.spotify.com/episode/7ANmziyaMwUEvF9ERQu6yz?si=NvDP5uJmRZ2fV8wEWNNfvA
Building a StoryBrand by Donald Miller:
https://www.amazon.com/Building-StoryBrand-Clarify-Message-Customers-ebook/dp/B06XFJ2JGR