Episode 557: How to Run a Long-Distance Business – Madison Hernandez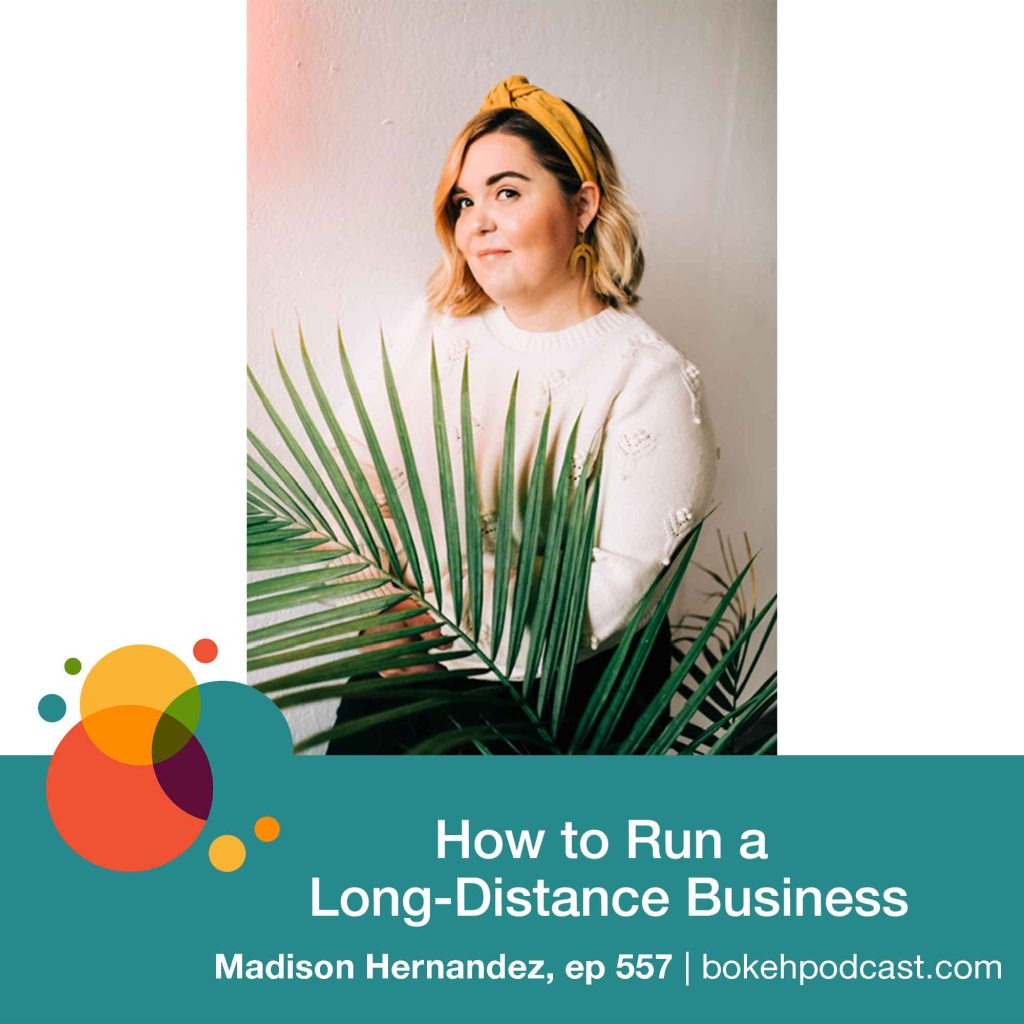 Sometimes you go into survival mode and come out with a different perspective on both your life and your business realizing that some things are worth the trip!
In episode 557 of the Bokeh Podcast, Madison Hernandez speaks on what led her to run a long-distance business and the valuable lessons she learned along the way! Listen in to hear Madison give so many amazing tips on how to successfully run a long-distance business, from pricing with travel in mind to resources for time management!
The Bokeh Podcast is brought to you by Photographer's Edit: Custom Editing for the Professional Photographer. You can subscribe to the Bokeh podcast on the Apple podcast app, follow on Spotify, add to your playlist on Stitcher, or listen on Overcast.
Show Notes

Brand position (3:46)

Creating a great customer experience (8:22)

Technique for time management (11:59)

Outsourcing/Delegation (22:22)

Book recommendation (28:34)
https://bokehbookshelf.com
The Four Agreements by Don Miguel Ruiz
The Untethered Soul by Michael A. Singer
The Body Keeps the Score by Bessel van der Kolk M.D.

WTF Moment (34:42)

Thoughts on prioritizing work vs. self-care (17:50)

Madison's journey to having a Long-Distance Business (36:07)

Raising your prices when changing locations (42:33)

Tips for running a long-distance business (43:43)
– Figure out the costs of travel, the cost of time and compensate those costs with pricing
– Time management and proactively managing your calendar
– Refine your services offered
– Explore different business platforms for time management and client management
– Have a flexible system that allows for unexpected events
– Reevaluate and let tasks go that take away from your time
– Make your services easy to understand for your clients
– Make your website easy to navigate

Links:
https://www.charitywater.org
https://madisonhernandez.com
https://instagram.com/madisonhernandezphoto
Boundaries by Henry Cloud, John Townsend
The 4 Hour Workweek by Timothy Ferriss
https://www.photographersedit.com
https://instagram.com/photographersedit
https://usesession.com