Episode 492: Mistakes You Might be Making with Your Pinterest Account – Carolina Guzik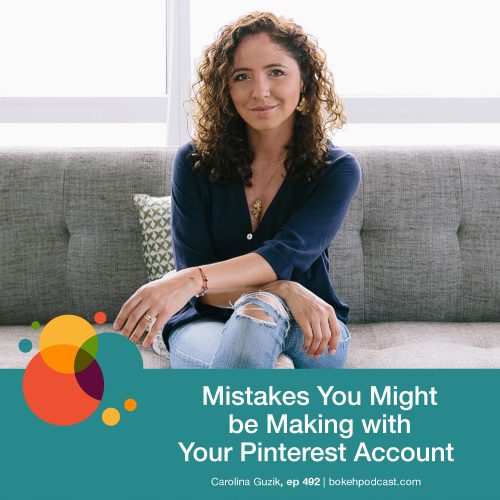 "Pinterest is just for moms." "People only use Pinterest to find recipes and cute ideas." Are these common misconceptions keeping you from using Pinterest as a marketing platform?
Not Carolina! In episode 492, Carolina Guzik walks listeners through practical steps of how to utilize Pinterest as a search engine in order to reach potential clients. Listen in to hear how Carolina has leveraged Pinterest to be one of the top platforms for driving traffic to her website!
The Bokeh Podcast is brought to you by Photographer's Edit: Custom Editing for the Professional Photographer and Miilu: The Simplest Way to Create and Manage Timelines and Shot Lists for the Events You're Photographing. You can also subscribe to the Bokeh podcast on the Apple podcast app, follow on Spotify, add to your playlist on Stitcher, or listen on Overcast.

Show Notes

Carolina's Brand Position (2:25)
Providing a great customer experience (7:43)
Time Management Techniques (10:15)
Book Recommendation (18:00)
Steal Like an Artist by Austin Kleon
TedTalk on Steal Like an Artist
Pinterest Misconceptions (21:23)
Motivation for Carolina to use Pinterest for marketing (22:10)
Biggest mistakes that photographers are making when using Pinterest (29:11)
1. Treating Pinterest like a Social Media platform
2. Assuming that their audience isn't on Pinterest
3. Not using key words or phrases for search optimization
4. Pinning other's content
Using Pinterest as a search engine (34:50)
1. Include information about your business in the bio description
2. Create specific boards by niche (venues, styles, type)
3. Provide value to clients that will lead them to your website
How much time does Carolina spend on Pinterest for marketing efforts? (45:30)
Links:
carolinaguzik.com
thetogrepublic.com
instagram.com/thetogrepublic