Episode 502: How to Create Exclusivity – Michael Sasser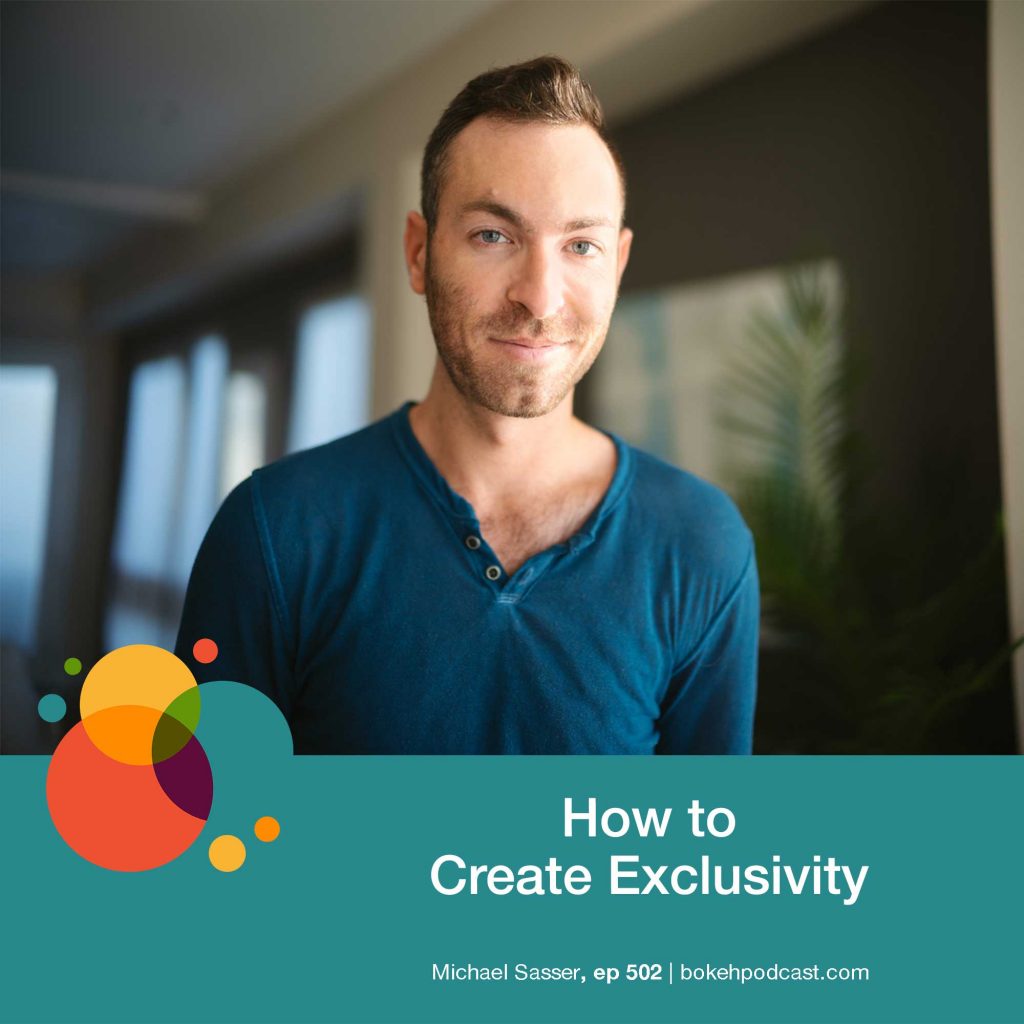 Space is limited. Elite members only. Reservations required. All of these statements elicit the assumption of exclusivity, right? How would you like for your photography business to be thought of in that way?
Michael Sasser of Sasser Stills Boudoir has created processes in his photography business that have made him more desirable to clients, due to the feeling of exclusivity! In episode 502 of The Bokeh Podcast, he shares the steps clients must take in order to book a session with him, as well as the benefits he has seen both financially and personally. Listen in as he shares his strategy, along with a hard lesson learned in the process.
The Bokeh Podcast is brought to you by Photographer's Edit: Custom Editing for the Professional Photographer and Miilu: The Simplest Way to Create and Manage Timelines and Shot Lists for the Events You're Photographing. You can also subscribe to the Bokeh podcast on the Apple podcast app, follow on Spotify, add to your playlist on Stitcher, or listen on Overcast.

Show Notes

Sasser Stills Boudoir Brand Position (6:03)

Creating a great customer experience (8:24)

Technique for time management (11:00)

Outsourcing/Delegation (13:54)

Book Recommendations (18:46)
The 4-hour Workweek by Tim Ferris
This is Marketing by Seth Godin

What exclusivity means to Michael, and how he created a sense of exclusivity in his business (23:10)
1. Limited the number of shoots and dates available for sessions
2. Only books clients through a scheduled, personal phone call
3. Clients receive emails with videos and information about the shoots prior to ever booking

Objectives clients must meet in order to book with Michael  (32:53)
1. Sign up for the waitlist
2. Clients book a phone call with Michael
3. Select one of the limited dates for a shoot during the phone call

Motivation for Michael to create this exclusivity model (42:00)

Michael's Courses (47:24)

Links:
charitywater.org
Michael's first Bokeh Podcast Interview- Episode 46
Youtube.com/michaelsasser
sasserstillsboudoir.com
instagram.com/sasserstillsboudoir
boudoircourses.com
17hats.com
youtube.com/markrober