Episode 543: How to Apply Constructive Criticism in Your Business – Anna Wright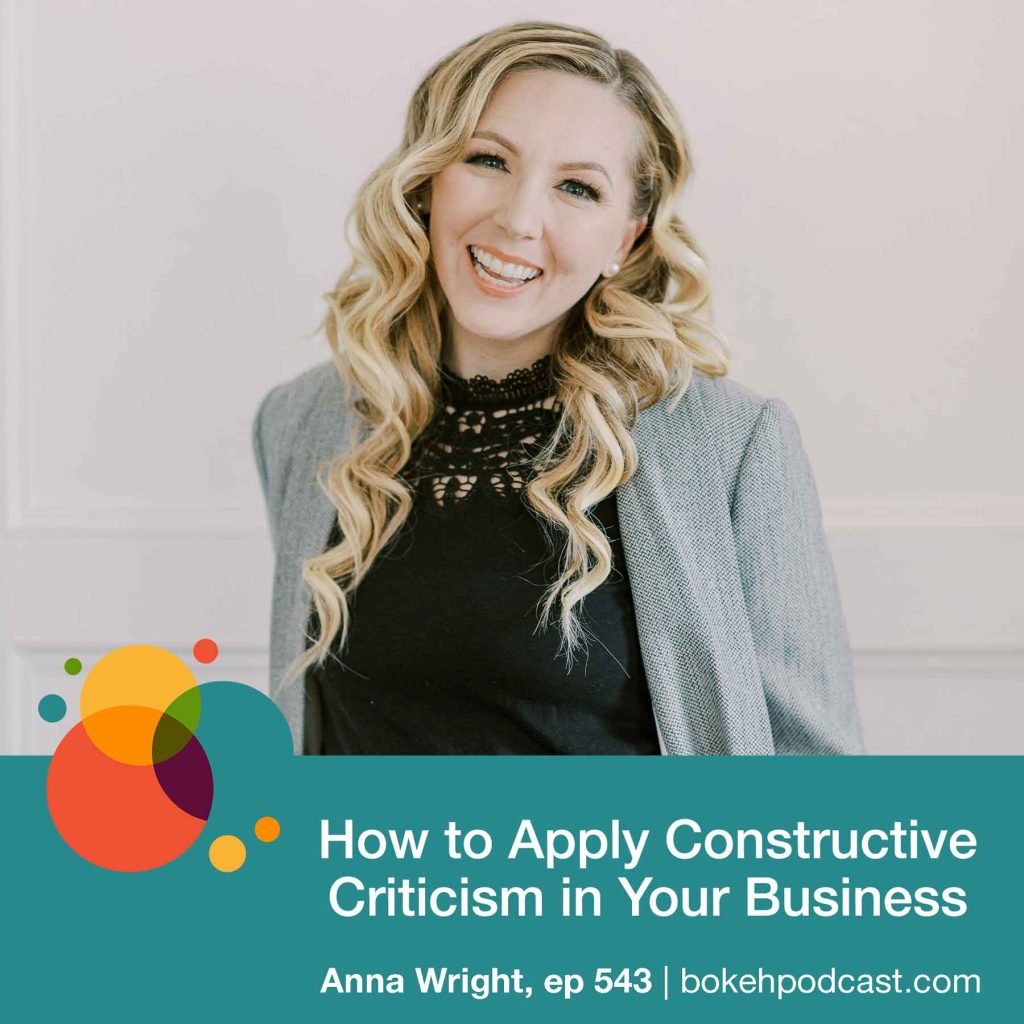 Hearing opinions and critical feedback from others can sometimes be uncomfortable. But seeking and receiving actionable constructive criticism can truly help you improve your practice and grow your business!
In episode 543 of The Bokeh Podcast, Anna Wright shares strategies for not only how to seek constructive criticism for your business, but how to find the right person to provide that feedback to you! Listen in to hear her steps for connecting with a mentor and creating the expectations for the feedback process.
The Bokeh Podcast is brought to you by Photographer's Edit: Custom Editing for the Professional Photographer and Miilu: The Simplest Way to Create and Manage Timelines and Shot Lists for the Events You're Photographing. You can also subscribe to the Bokeh podcast on the Apple podcast app, follow on Spotify, add to your playlist on Stitcher, or listen on Overcast.

Show Notes

Brand Position (3:20)

Creating a great customer experience (6:37)

Technique for time management  (9:06)
1. Outsourcing
2. Virtual Assistant

How to best communicate when outsourcing/delegating (11:30)

Book Recommendation (14:40)
Profit First by Mike Michalowicz

Why constructive criticism is so important to Anna in her business (17:19)

Why should photography business owners care about this type of feedback? (20:11)

Anna's explanation of the difference between constructive criticism and opinions? (22:47)

How can photographers seek out the right people to give constructive criticism? (25:12)
1. Find someone who knows and is invested in your business
2. Ensure the person is trained in providing feedback/constructive criticism in the field
3. Ask for specific, actionable feedback/constructive criticism relative to your business

How should photographers approach the conversations asking for constructive feedback? (33:14)

How do photographers filter the feedback to determine what is valuable? (35:13)

Links:
https://www.charitywater.org
https://www.annakayphotography.net
https://www.instagram.com/annakay.photography
Anna's 1st Bokeh Podcast Episode 329:
https://www.photographersedit.com/bokeh-podcast/episodes/fully-booked-in-2-years/
Free checklist for qualifying feedback:
https://view.flodesk.com/pages/61dfa3496758a3ddd643efe5