Episode 542: Building Community for Marketing – Katelyn Workman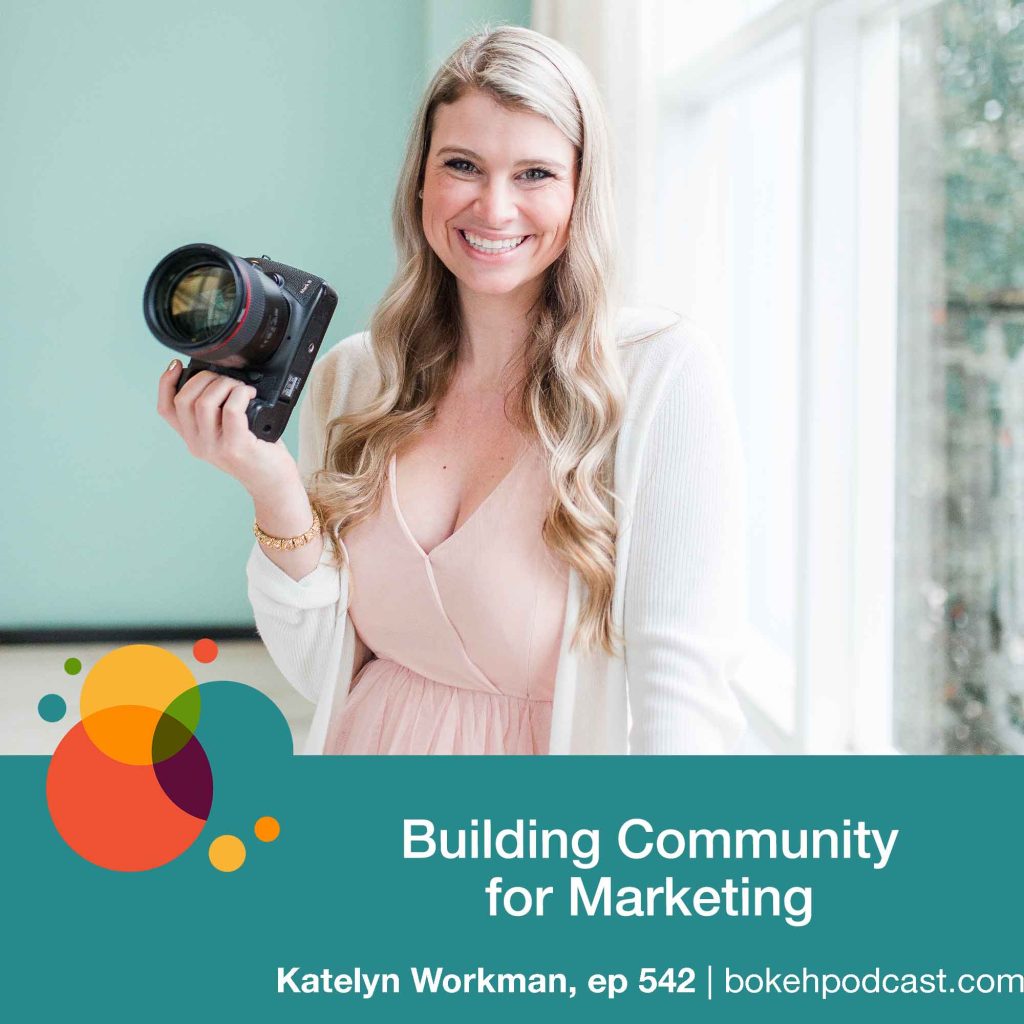 Are you consistently searching for how to best market your photography business? Do you try all of the latest trends on social media and follow what everyone else is doing only to feel like you're spinning your wheels, and doing it alone?
Katelyn Workman is here for episode 542 of The Bokeh Podcast to bring us back to the basics with marketing – build a community and engage authentically! Listen in to hear principles driving this philosophy, as well as 3 simple steps that photographers can take to start building community today!
The Bokeh Podcast is brought to you by Photographer's Edit: Custom Editing for the Professional Photographer and Miilu: The Simplest Way to Create and Manage Timelines and Shot Lists for the Events You're Photographing. You can also subscribe to the Bokeh podcast on the Apple podcast app, follow on Spotify, add to your playlist on Stitcher, or listen on Overcast.
Show Notes

Brand Position (2:37)

Creating a great customer experience (5:23)

Technique for time management (9:35)

Outsourcing/Delegation (15:10)

Book Recommendation (22:38)
Traction: Get a Grip on Your Business by Gino Wickman

Favorite piece of gear (30:00)
Canon 85 1.4

How did Katelyn connect her love of connecting with people with marketing? (33:45)

What is the benefit of community for a photography business? (36:31)

Steps to building community (40:58)
1. Blogging on a regular basis
2. Instagram – use IG to connect with others in the industry AND use IG stories to share about you
3. Attend or host in-person events to connect with others in the industry
4. Be persistent

What principles should photographers keep in mind when marketing to a community (50:05)
1. Serve before selling
2. Be honest and practice "real" authentic communication
3. Be consistent

What are the next steps photographers can take to begin building community (54:45)
1. Show up on stories authentically
2. Make a list of vendors to connect with
3. Create a piece of content that provides value

Links:
https://www.charitywater.org
https://katelynworkmanphotography.com
https://instagram.com/katelynworkmanphotography
https://thriftbooks.com