Episode 562: A Simpler Approach to Senior Photography – Mary Vance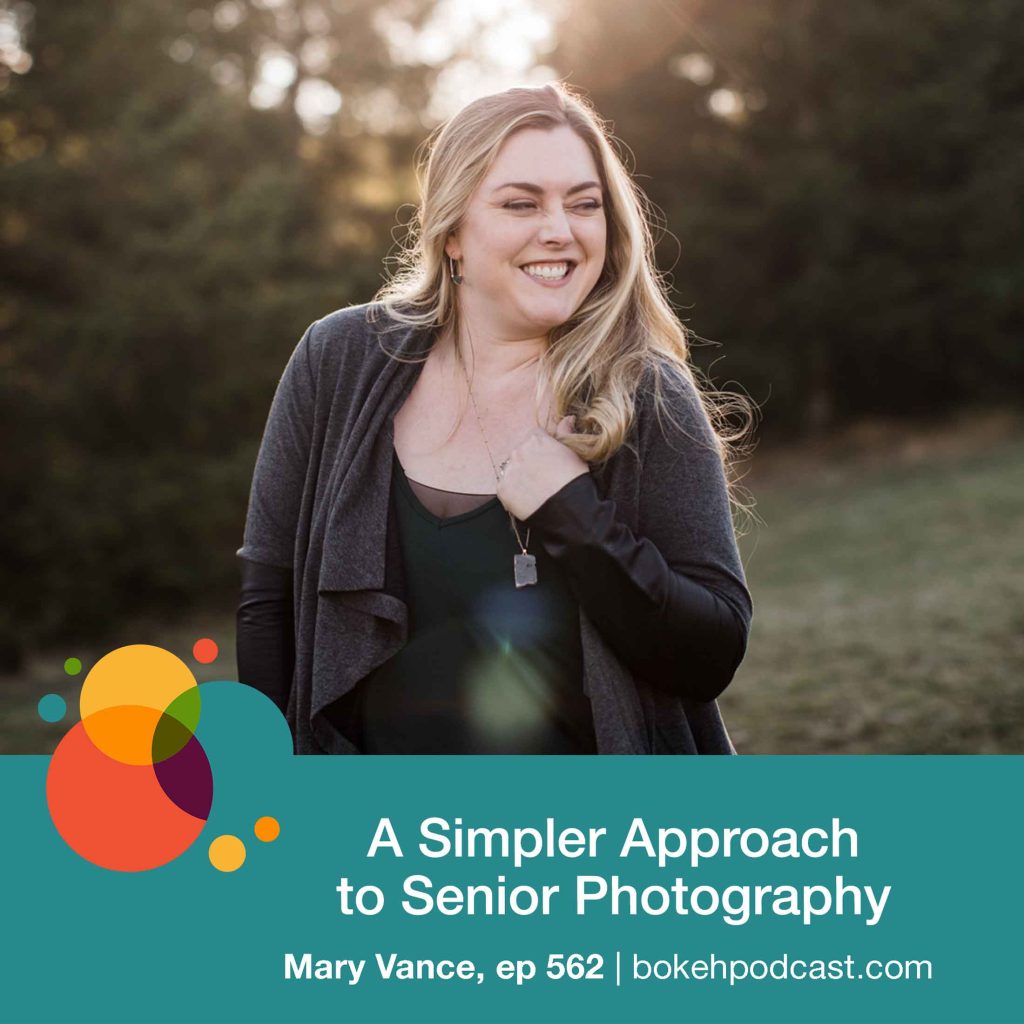 There are very few people that fall into the 1% of modeling perfection, so why in the world would we expect that of teenagers who are still learning and growing?

In episode 562 of the Bokeh Podcast, Mary Vance explains how she photographs "the other 99%" of seniors with a focus on inclusivity and authenticity. Tune in to hear great advice on how to simplify your approach to senior photography and tips on how to successfully engage with teenagers to simple ways on how to pose seniors during their session.

The Bokeh Podcast is brought to you by Photographer's Edit: Custom Editing for the Professional Photographer. You can subscribe to the Bokeh podcast on the Apple podcast app, follow on Spotify, add to your playlist on Stitcher, or listen on Overcast.
Brand position (5:05)

What is it like to be inclusive with seniors who are more outside of the box (6:45)

Creating a great customer experience (12:48)

Technique for time management (15:25)

Outsourcing/Delegation (18:59)

Book recommendation (26:53)
Soundtracks by Johnny Cuff
https://bokehbookshelf.com

How to sum up the approach towards senior photography (31:53)

What made Mary want to change her approach toward senior photography (33:40)

Why in senior photography has the "model look" become the industry standard? (37:52)

Supplementing slower seasons in your business model (40:25)

Engaging and talking with seniors in an authentic way (42:14)
Don't's
1. Don't add pressure by asking about the future
2. Don't make assumptions about them
3. Don't cross the line
Do's
1. Do ask their pronouns
2. Do ask about their interests
3. Do repeat their answers back to them and have follow up questions

Simple Senior Photography Posing (53:23)

What lead Mary to a different approach toward senior photography posing (58:23)

Examples of Simple Poses (1:01:09)
1. Standing (1:01:35)
2. Seated (1:03:06)
3. Walking (1:04:30)

Three Poses to Avoid Visuals (1:07:05)
instagram.com/maryvancephotography

Steps to Simplify Your Approach to Senior Photography (1:08:11)
Practical
1. Learn your light and gear
2. Outsourcing
3. Simplify your intake form
Mindset
1. Let go of the "shoulds"
2. Stop focusing on your competition
3. If you don't know, ask

Links:
https://www.charitywater.org
maryvance.com
instagram.com/maryvancephotography
Crafting the Natural Light Look by Sandra Coan