Episode 572: Simple Cash Flow Management for Stronger Profitability – Braden Drake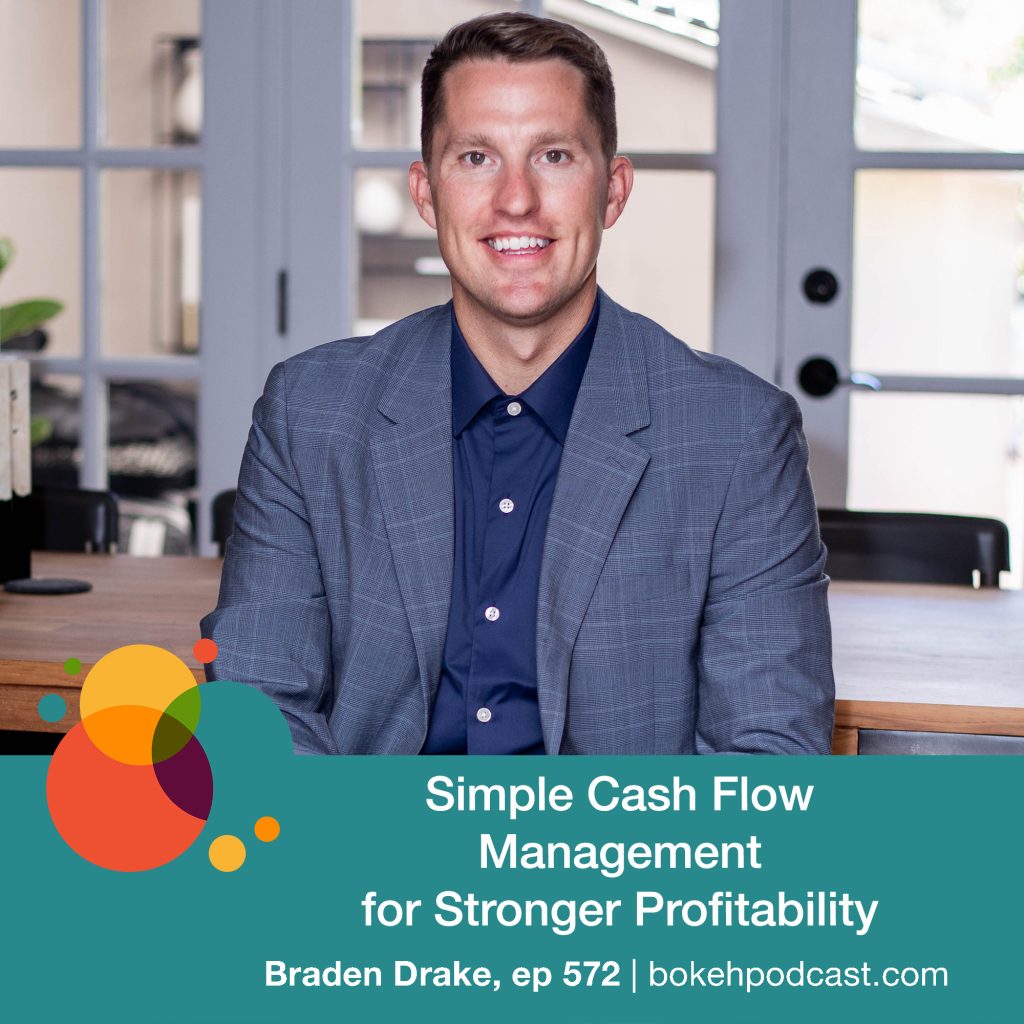 Have you been struggling with what to do after the money hits your bank account? Are you unsure about taxes, profit margins, and how to manage each payment in a way that sets you up to be profitable down the line?
In episode 572 of the Bokeh Podcast, returning guest Braden Drake sets the stage for financial success by offering practical tips for making your money work for you. Whether you've experienced a lack of education in regard to money, a lack of money talk in your personal life, or an "I'll do it tomorrow" mentality, you're in good company. Tune in as we chat about minimizing stress when it comes to taxes, owner's pay allocation, and more!
The Bokeh Podcast is brought to you by Photographer's Edit: Custom Editing for the Professional Photographer. You can subscribe to the Bokeh podcast on the Apple podcast app, follow on Spotify, add to your playlist on Stitcher, or listen on Overcast.
Braden's background (2:38)
Where did Braden's book idea come from? (4:54)
What was the motivation for creating a book like this and the communication style to go along with it? (6:23)
Defining cash flow (8:40)
Why isn't there a basic understanding of cash flow management? (11:11)
How can you minimize the stress associated with setting aside a designated percentage for taxes? (14:01)
Braden's recommendation on the best approach to handling funds when you get paid (15:15)
How do photographers go about calculating a profit margin? (18:18)
Should photographers be considering taxes in the profit margin equation? (19:32)
Is there a goal profit margin percentage in the photography industry? (20:07)
The process for owner's pay allocation (22:26)
Braden's course, Profit Rx (26:38)
Book Recommendations:
Bokeh Bookshelf
Building a StoryBrand by Donald Miller
Marketing Made Simple by Donald Miller
Links:
Charity Water
Episode 524: Top 5 Tax Mistakes and How to Fix Them
Braden Drake
Braden's Instagram
Braden's Podcast
Braden's Book
Braden's Course
Qapital