Episode 397: You Aren't Your Personality – Dr. Benjamin Hardy
Are personality types or enneagram numbers limiting your growth or constricting you into a specific box or category?
In episode 397 of the Bokeh Podcast, Dr. Benjamin Hardy joins us to discuss a concept I've harped on for a while now—personality doesn't define you. With Dr. Hardy's education background, experience, research, and now published book, he's joining us to contend the limiting belief that you are what your personality defines you as.
The Bokeh Podcast is brought to you by Photographer's Edit: Custom Editing for the Professional Photographer and Miilu: The Simplest Way to Create and Manage Timelines and Shot Lists for the Events You're Photographing.  You can also subscribe to the Bokeh podcast on the Apple podcast app, follow on Spotify, add to your playlist on Stitcher, or listen on Overcast.
Technique for Time: (6:47)
Know what you want.
Be committed to it.
Create boundaries.
Hire the who to do the how.
"Intelligence is the ability to make finer distinctions." – Robert Kiyosaki (20:55)
'If you're not embarrassed by who you were 12 months ago, you haven't learned enough." – Alain de Botton (21:11)
Motivation for Personality Isn't Permanent (27:33)
Type Based Personality Tests Aren't Scientific (30:48)
Selective Attention (35:29)
Move Outside of Your Limiting Box ()
Personality for Most People is a Coping Mechanism (55:40)
Grab a Copy of Benjamin's Book: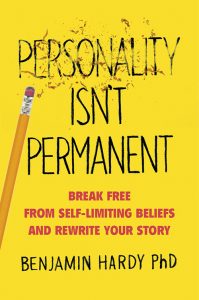 Resources:
Personality Isn't Permanent
Who Not How (Dan Sullivan – Strategic Coach)
Time Management from the Inside Out – bit.ly/bp-timemanagement
The Body Keeps the Score – bit.ly/bp-bodykeepsscore
Links:
benjaminhardy.com
medium.com/@benjaminhardy
instagram.com/benjamin_hardy_phd