Episode 498: How to Offer Hybrid Photo + Video Coverage – Taylor Jackson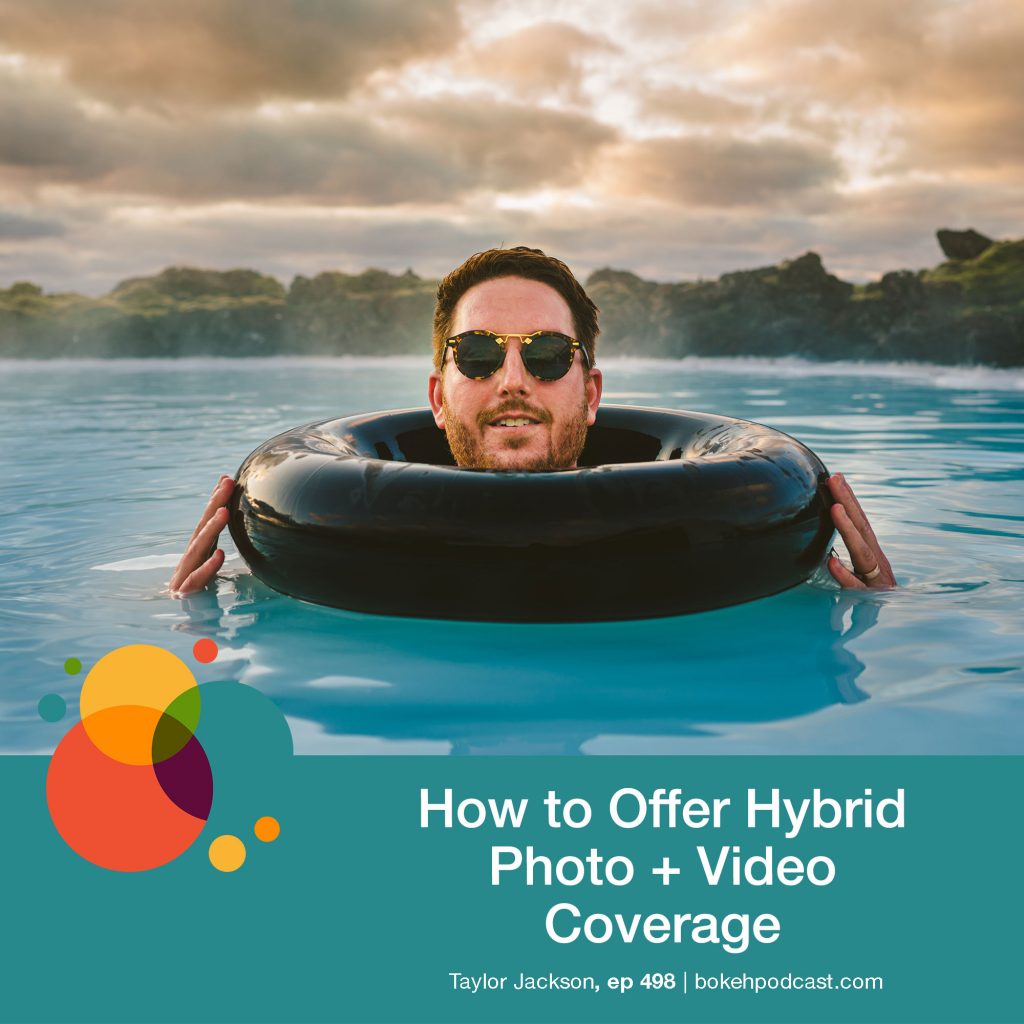 How often do your clients respond with extreme emotion when you deliver their wedding day memories to them? If you aren't experiencing that on a regular basis, maybe it is time to start adding video into your packages!
Taylor Jackson has not only become an expert in providing his clients with a hybrid photo + video package, but also teaches other photographers how to do the same! Listen in to episode 498 of The Bokeh Podcast to hear his advice for what to do and what to avoid when getting started in the hybrid market.
The Bokeh Podcast is brought to you by Photographer's Edit: Custom Editing for the Professional Photographer and Miilu: The Simplest Way to Create and Manage Timelines and Shot Lists for the Events You're Photographing. You can also subscribe to the Bokeh podcast on the Apple podcast app, follow on Spotify, add to your playlist on Stitcher, or listen on Overcast.

Show Notes

Taylor's Brand Position (19:36)
Creating a great customer experience: (26:28)
Keep efficiency at the forefront of the entire experience – even on the wedding day!
Technique for time management: (32:40)
Outsource and proactively plan in order to combine work and play
Outsourcing/Delegation: (34:55)
Photo and Video Editing
Book Recommendations: (41:30)
The Four-Hour Workweek by Tim Ferris
Medium Raw by Anthony Bourdain
Why add video? (44:27)
1. Video allows you to tell stories in a different way
2. Clients connect emotionally to video more than to photos
What questions should photographers ask themselves when considering whether to add video? (52:26)
1. Are you confident enough in your photography to add in video?
2. Can you multi-task during the wedding day?
What are a few mistakes photographers make when beginning to shoot video? (57:00)
1. Forgetting to record video during the wedding day
2. Selling videography before having proof that they can do it
3. Offering too much too quickly
What are key technical concepts to keep in mind when beginning video? (1:00:44)
1. Understand and know how to work in different lighting situations
2. Shoot with a camera that has a fast buffer, and work with fast memory cards
3. Don't worry with using ND filters – use a plugin during editing instead!
4. Shoot in slow motion
5. Shoot less to cut down on the editing process – focus on the big moments of the wedding day
Links:
charitywater.org
taylorjacksoncourses.com
taylorjacksonphoto.com
youtube.com/taylorjacksonphoto
instagram.com/taylorjackson
War Photographer Documentary Film