Episode 566: How LiveStreaming Weddings Can Grow Your Business – Julia Eskin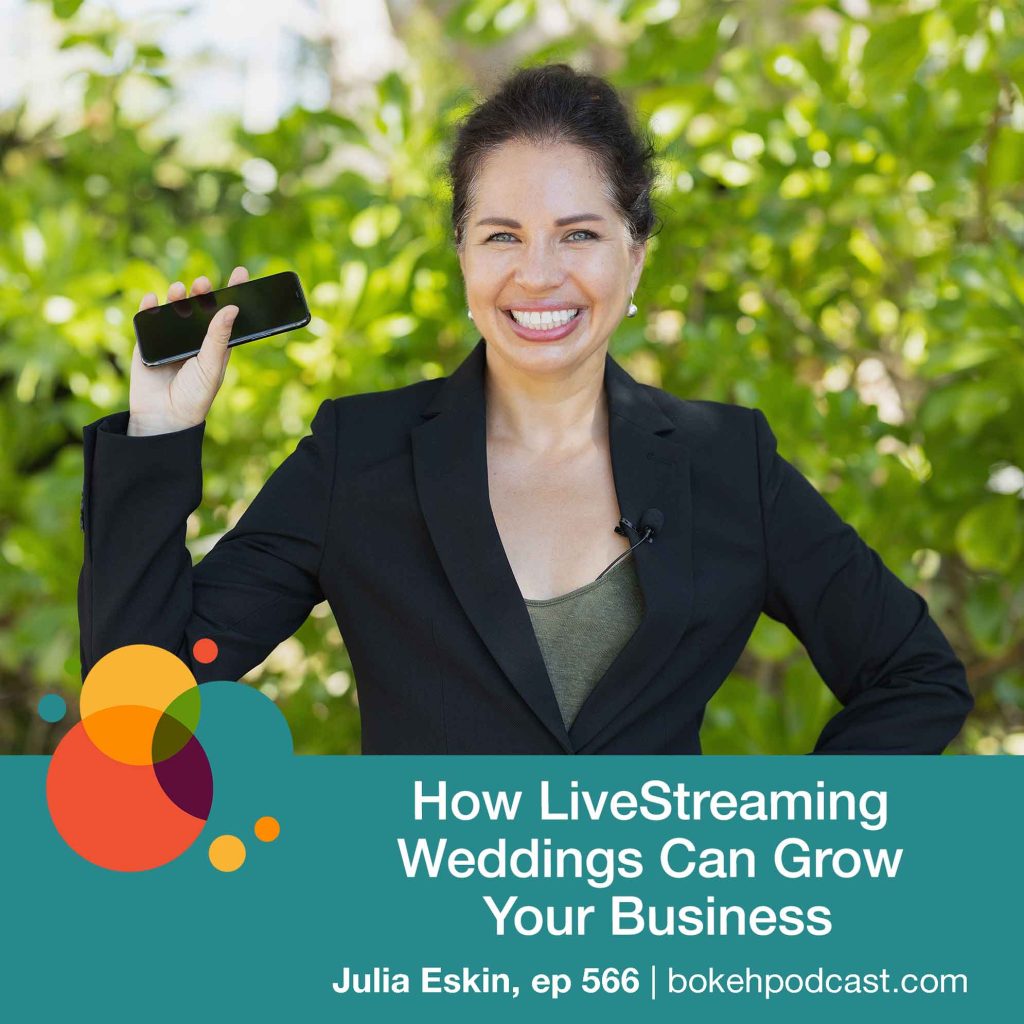 Usually, when you think of livestreaming you think of trouble logging in, lousy wifi, and "Grandma can you hear me? Flip your camera!" And in the world we live in now, with smaller weddings, elopements, and destination weddings, even if everyone can't be in attendance, clients still want to share their special moments with loved ones. So, how can you provide a service that's simple to use, and helps your clients, while also growing your business?

Our guest, Julia Eskin of EventLive.pro is here to help in episode 566 of The Bokeh Podcast! Tune in to hear how EventLive started and how it can help you create more income for your wedding photography business while also giving your clients the opportunity to share their wedding with guests that couldn't be in attendance. Definitely a win-win for both parties!

The Bokeh Podcast is brought to you by Photographer's Edit: Custom Editing for the Professional Photographer. You can subscribe to the Bokeh podcast on the Apple podcast app, follow on Spotify, add to your playlist on Stitcher, or listen on Overcast.
Julia's Photography Background (3:06)

Julia's Website Design (4:27)

Brand position (7:44)

Creating a great customer experience (10:30)

Technique for time management (14:09)

Book recommendation (16:02)
The Dip by Seth Godin

Outsourcing/Delegation (18:20)

The Reasoning for Outsourcing Certain Tasks (22:09)

EventLive Backstory (25:31)

What did you think about competition when creating EventLive? (30:38)

How photographers can use livestreaming as a second stream of revenue? (35:21)

How to minimize potential distraction when both shooting and livestreaming (39:15)

Steps on Offering Livestreaming (40:15)
1. Visit EventLive.pro/business
2. Register and Download App
3. Run Free Testing to Learn How the App Work
4. Add Your Own Logo and Brand
5. Get a Phone Mount
6. A Bluetooth Microphone is recommended

Links:
https://www.charitywater.org
love.juliaeskin.com
instagram.com/juliaeskin
eventlive.pro
instagram.com/eventlivepro
Eat that Frog! by Brian Tracy
https://bokehbookshelf.com