Episode 526: 5 Principles to Transform Your Wedding Photo Business – Daniel Moyer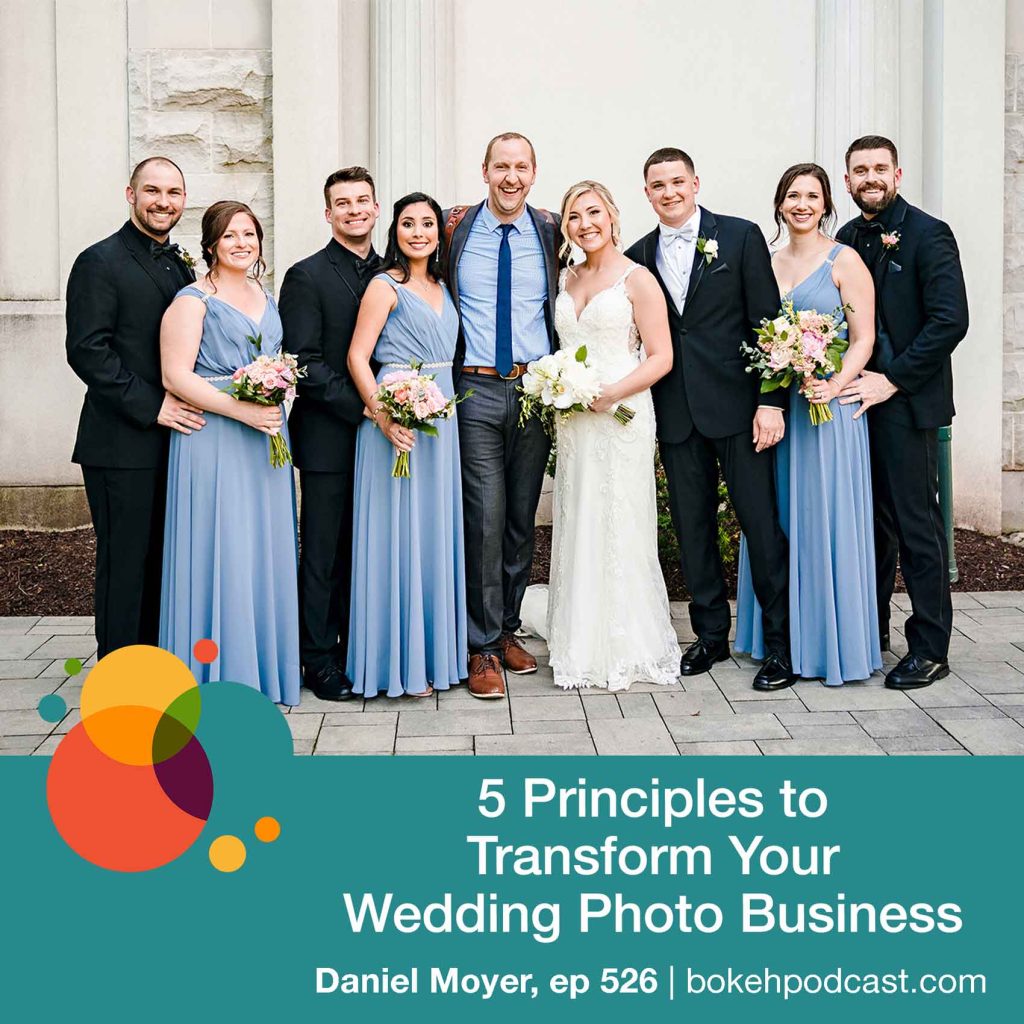 "Referrals are the foundation of the marketing pyramid." – Daniel Moyer, Bokeh Podcast episode 526.
If you're not using your current and past clients as the main source of your marketing efforts, you are missing out on a massive opportunity.
In episode 526 of the Bokeh Podcast, Daniel Moyer shares his technique for building relationships with his clients that go beyond the traditional client/photographer interaction and engagement. Listen in to hear how his deep relationships have not only helped build connections with his current clients, but have also been the main source of his future referrals.
The Bokeh Podcast is brought to you by Photographer's Edit: Custom Editing for the Professional Photographer and Miilu: The Simplest Way to Create and Manage Timelines and Shot Lists for the Events You're Photographing. You can also subscribe to the Bokeh podcast on the Apple podcast app, follow on Spotify, add to your playlist on Stitcher, or listen on Overcast.
Show Notes

Daniel's relationship with money (4:45)

Brand Position (8:07)

Creating a great customer experience (14:11)

Technique for time management (17:22)

Book Recommendations (22:35)
Profit First by Mike Michalowicz
A Simple Path to Wealth by J. L. Collins
Manage Your Day to Day by 99U
Ask Powerful Questions: Create Conversations that Matter by Will Wise

What were the pain points that led to the change in Dan's business? (27:40)

5 Steps for Transforming Your Photo Business (33:28)
1. Knowledge is Power – Don't just learn facts to learn about your clients, get to KNOW them and their story
2. Differentiate yourself by flipping the wedding photography script – doing something outside the norm with the element of surprise
3. Be along for the journey, not just the booking and the wedding day – be a resource or reference throughout the wedding planning process
4. Seek positive emotion to anchor decision-making to – sell good feelings, not fear, by speaking in terms of the benefit for the client
5. Referrals are the most valuable form of marketing currency

Links:
https://www.charitywater.org
https://www.focusedphotographers.com
https://www.danielmoyerphotography.com/
https://www.bokehbookshelf.com
https://www.instagram.com/danielmoyerphoto
https://www.instagram.com/getfocusedphotographers